September 28, 2018
New undergraduate journal to begin accepting submissions Oct. 1
Submitted by Jakob Alexander Hanschu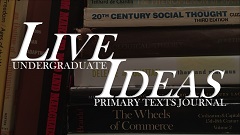 Live Ideas: Undergraduate Primary Texts Journal will begin accepting submissions on Oct. 1.
Live Ideas is an open access, peer-reviewed undergraduate journal co-produced by students and faculty at Kansas State University. Its mission is to provide a platform for undergraduates to express their original ideas in creative, unbounded and meaningful ways. In doing so, Live Ideas accepts a wide range of works, including research, creative writing, art, poetry and multimedia essays.

The journal seeks works that are especially engaging, as is reflected in the author guidelines. Submissions should be alive in the full sense of the word.
Live Ideas is sponsored by the K-State Primary Texts Certificate Program.