August 27, 2018
Celebrating 90 years of K-State Family Day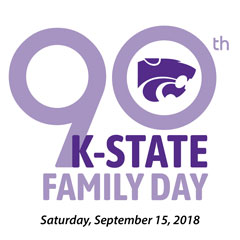 K-State is often described as a family. While the definition of family may vary widely, we are consistent in our efforts to recognize and celebrate the critical role families play in student success. This fall, the university will celebrate 90 years of K-State Family Day on Saturday, Sept. 15.
Family Day will include traditional programming like K-State Family Tailgate, Legacy Pinning Ceremony and Brunch, K-State football and soccer, the Latin Jazz Band, and so much more. You can find a complete schedule of activities at k-state.edu/familyday.
As faculty, staff and students came together to brainstorm how to celebrate this incredible milestone, the sentiment was unanimous. We want to do something for the family. An idea quickly became a reality. Let's "FILL the Closet and the Cupboard!" Students, faculty, parents and families are invited to check out a wish list where you can sign up to donate items to the Cats' Cupboard and the Career Closet. The campus food pantry is requesting food and hygiene items while Career Services is requesting items that will help students put their best foot forward at their next interview.
Will you help fill the pantry and closet? Thank you for sharing information with students and families about plans for K-State Family Day in September.