August 13, 2018
Lafene Health Center's 21st Birthday Project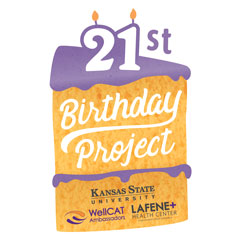 Lafene Health Center will bring a new program to the Manhattan campus this fall.
The 21st Birthday Project will focus on students turning 21 while attending K-State by looking at their perceptions of alcohol use, behavioral patterns and program outcomes. The project aims to reduce harmful drinking behaviors as students transition to the legal drinking age by offering a brief informational session prior to their night of celebration. For those students who choose to drink, the transition to turning 21 often presents new challenges such as drinking for the first time, drinking in new and unfamiliar environments, and being faced with pressure to consume more than they have in the past.
Eligible students will be invited via email to attend a one-on-one session with a peer education leader the week before their 21st birthday. These peer leaders are formally trained and are certified peer educators through the WellCAT Ambassadors organization on campus. During this session, the peer education leader will engage each student about the negative physical and behavioral consequences of binge drinking and help students who are at risk for partaking in harmful drinking behaviors during the student's birthday celebration. The peer education leader will work with the student to select individual-based harm-reduction strategies to implement on the night of their birthday. The peer education leader also will provide the student with resources for more information, as well as a celebration coupon book that promotes other non-drinking celebratory activities that are sponsored by community partners in Manhattan.
If you have any questions regarding the 21st Birthday Project, you may contact Health Promotion, Lafene Health Center at KSU21stbirthday@k-state.edu or call 785-532-6595.