July 27, 2018
Business scholars from China's Ningxia University visit K-State College of Business
Submitted by Brent Fritzemeier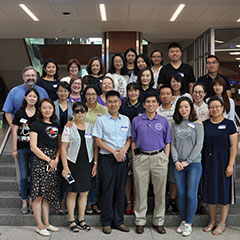 A contingent of 24 Master of Business Administration students, faculty and staff from the Ningxia University School of Economics and Business recently traveled to Kansas State University for three days of classroom presentations and academic collaboration.
Located in Yinchuan, China, Ningxia University is comprised of more than 15,000 undergraduate and 1,300 graduate students. K-State associate dean for academic programs Chwen Sheu and professor of economics Bill Blankenau have previously visited and presented at Ningxia University, and in 2017 an agreement was signed making the two universities "sister schools."

From July 25-27, the group attended five presentations from K-State on the topics of data analytics, entrepreneurship, finance, national culture and management, and managerial economics. They also took part in facilities tours at K-State and nearby businesses, and had the opportunity to interact with representatives from the International Program Office and the Graduate School, as well as numerous K-State students, faculty and staff in the College of Business.

"Ningxia University is one of the international sister schools the College of Business has been working very hard to develop a long-term relationship with," Sheu said. "The fact that the school sent so many students and faculty to visit us this summer indicates the level of trust we have successfully built with them. Moving forward, we plan to engage in more academic collaboration — including short-term visits, joint degree programs and student exchanges."