June 14, 2018
Recycling Center organizes recycling effort for 451 mattresses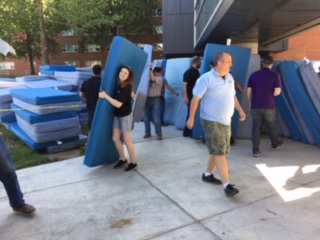 The K-State Recycling Center is passionate about recycling and works with K-State departments to ensure old recyclable materials find renewed beginnings. The center recently worked with Housing and Dining Services to recycle 451 mattresses.
Though the center can recycle aluminum cans, paper, cardboard, glass and more, mattresses are a bit more difficult. Nevertheless, the recycling coordinator found an organization in the Greater Kansas City area that agreed to pick up, sanitize and redistribute these mattresses to children in need at no cost to the university. A team from Housing and Dining Services assisted in loading the 451 mattresses in the three-hour process. A job well done!
Read more about what the university's Recycling Center can do.