June 6, 2018
Caragea named Keystone Research Scholar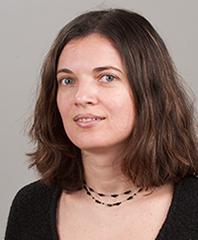 Doina Caragea, Kansas State University professor of computer science, has been named a Michelle Munson-Serban Simu Keystone Research Scholar, funded by Michelle Munson, 1996 K-State graduate in electrical engineering, and her husband, Serban Simu.
Keystone Research Scholar awards were established to recruit and retain top scholars in the early stages of their careers who are in high demand for faculty positions throughout the U.S. The funds are to "honor Michelle Munson and Serban Simu on the campus of Kansas State University, and to recognize and reward outstanding performances in teaching, service and research in the College of Engineering."
Caragea is the co-principal investigator on a $900,000 grant from the NSF Critical Techniques, Technologies and Methodologies for Advancing Foundations and Applications of Big Data Sciences and Engineering program, where she will explore domain adaptation solutions based on deep learning to help emergency response organizations deal with the overload of information in real time.
She has expertise in machine learning and data mining, with applications to data intensive problems in recommender systems, text analytics, security informatics and bioinformatics. In recent years, she has focused on semi-supervised and domain adaptation algorithms, under the assumption that labeled data for a domain of interest is limited, if available at all.