May 14, 2018
College of Agriculture Dean John Floros to become president at New Mexico State University
Submitted by Division of Communications and Marketing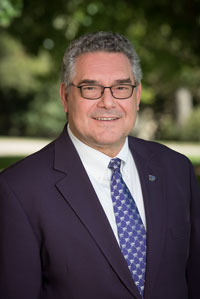 John Floros has accepted the position of president of New Mexico State University and tentatively will begin his duties July 16.
Floros, a professor of food science and engineering, joined Kansas State University Aug. 1, 2012, as dean of the College of Agriculture and director of K-State Research and Extension. During his tenure, undergraduate enrollment increased by 27 percent and graduate enrollment by 18 percent. The career placement rate for the college is 98 percent.
"Dean Floros has been a true champion of our land-grant mission," said President Richard B. Myers. "His vision and acumen helped raise the international profile of our College of Agriculture, research and extension enterprise, and the entire university. We are grateful for his leadership in so many areas. His service to Kansas State University is deeply appreciated."
Extramural research funding for the college and KSRE increased nearly 150 percent while Floros was dean and director. Momentum toward the goal of being a Top 50 public research university increased under Floros as the college carried out crucial work on global food systems, including being awarded four new Feed the Future Innovation Labs from the U.S. Agency for International Development. A recent ranking by niche.com named K-State's College of Agriculture as No. 4 in the nation.
"As an academic and research leader John Floros clearly understands the issues facing our society when it comes to food safety and security, said April Mason, K-State provost and senior vice president. "His five grand challenges inspired our research and extension operations throughout the state of Kansas, while leadership in four international Feed the Future laboratories addressed issues on a global scale. John's ability to link global initiatives to local solutions sets him apart as a scientist and administrator."
Read more about Floros' new role in the announcement by New Mexico State University.