July 19, 2012
Summer fieldwork: Workshops help teach girls science of soil carbon
Submitted by Communications and Marketing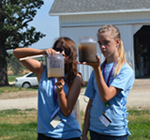 Kansas State University agronomists are helping to grow and excite interest in science fields by girls in middle and high school through two personalized, hands-on summer workshops.
The workshops, offered through the university's EXploring sCIence, Technology and Engineering, or EXCITE!, and Girls Researching Our World, or GROW, programs, are coordinated through the K-State Office for the Advancement of Women in Science and Engineering. EXCITE!, for girls in the ninth through 12th grades, and GROW, for girls in grades sixth, seventh and eighth, are designed for young women to explore careers in science, technology, engineering and mathematics fields, said Yasche Glass, program coordinator for the Office for the Advancement of Women in Science and Engineering.
At the recent summer workshops at K-State for both groups, K-State Research and Extension agronomists DeAnn Presley, soil management specialist, and Peter Tomlinson, environmental quality specialist, taught the girls the basics of soil carbon.
"Our objective was to increase their awareness of soils as a resource, and as both a source and a sink for greenhouse gases, particularly carbon dioxide. And we wanted to have them make their own observations about how human activity impacts the environment," Presley said.
Presley and Tomlinson discussed the global carbon cycle and how soils are a part of that cycle. They also talked about how soils have changed with time, particularly in the past 200 to 300 years with the shift from prairie to cropland.
"Since this was a hands-on workshop, we needed to do more than just talk about this to the girls. We wanted to show them where all the soil carbon goes, and get them physically involved in the process," Presley said. "We did this with a special rainfall simulator. With this equipment, we can run water over soils with different levels of vegetative cover, and then see the amount of soil in the water that runs off the soil."
The agronomists also took the EXCITE! group to the field to compare grassland versus cropland in terms of the thickness of dark, carbon-rich topsoil, Presley said. The students pushed augers into the soil for that to find out for themselves the differences between a good soil rich in carbon and a poorer soil low in carbon. The workshop session ended with a demonstration of soil respiration.
"To show them how to measure the respiration from the microorganisms in the soil, we had the girls pound in rings into a bare soil and into a vegetated area. We capped the rings and waited 30 minutes for the carbon dioxide to accumulate in the space between the ground surface and the cap," Tomlinson said.
The students were then able to use Drager tubes to actually see how much carbon dioxide had been released by the soil.
"The color change in the tubes as they accumulate carbon dioxide goes from white to K-State purple. The more purple, the more carbon dioxide is emitted," Tomlinson said. "In this case, a soil with more carbon dioxide emissions during the height of the growing season tells us that the soil is healthy and alive, and both plant roots and microorganisms are abundant and respiring."
Two K-State master's students in agronomy assisted with the demonstration by discussion their research with the girls. Megan Brown, Manhattan, is researching cover crops and measuring greenhouse gas emissions, and Kim Larson, Leonardville, is researching soybean nodulation.
Presley called both workshops good educational experiences for the girls.
"I think these girls care and want to learn all they can about the soil and how it affects water, climate and the environment as a whole," she said. "It is my experience that these are very intelligent young women, and it is summertime, so the last thing we wanted to do is stand in front of them and just talk. We knew we needed to get them involved as soon as possible with a hands-on project that is novel enough that they've never done it themselves before, yet relates to real life."
Girls participating in the GROW or EXCITE! workshops were from: Abilene, Belleville, Bucyrus, Burlington, Coats, Clearwater, Collyer, Derby, Edgerton, Herington, Hiawatha, Iola, Iuka, Junction City, Keats, Lansing, Lawrence, Leavenworth, Lenexa, Lyons, Manhattan, McPherson, Mission, New Strawn, Newton, Olathe, Ottawa, Park City, Perry, Pratt, Quinter, Salina, Spring Hill, Topeka and Wichita.
From Missouri: Kansas City, Kearney, Raymore and Smithville.
From Texas: Coppell.