July 17, 2012
The write stuff: Sheu earns best paper honor at international conference
Submitted by Communications and Marketing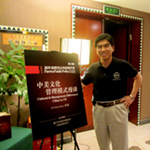 Chwen Sheu, professor and head of the department of management, has earned the Outstanding Paper Award from the 2012 Asia Pacific Business Innovation and Technology Management Society conference, July 1-3, in Genting, Malaysia.
Sheu is the College of Business Administration's Paul Edgerley chair in business administration management. He and R.J. Li from Taiwan's Long Hwa University of Science and Technology, were co-authors of the award-winning paper "Why Do Firms Adopt/Implement Green Practices? An Institutional Theory Perspective." It was selected for the top honor from 126 papers submitted from 18 countries. Only five papers were honored with awards from the society.
The paper examines why manufacturing firms implement environmental/green practices: Is the implementation entirely motivated by economic incentive — internal pressures —or partially by institutional variables — external pressures — such as social norms and customer pressures? Does the motive affect the result of the implementation?
Sheu said the team's statistical results indicate that the response to internal motives and external pressures affect the performance of environmental/green practices.
"Those firms who are forced by customers or regulations to adopt green practices do not perform as well as those who are primarily driven by economic incentive," he said. "It is one thing to meet the external requirements and another to believe in and exploit green practices as a resource for improving organizational performance. In other words, the motive influences the organizational commitment and resource allocation and ultimately affects firm performance."
It's the fourth year in a row that Sheu has earned a best paper honor at an international meeting.