July 13, 2012
Distinguished success: Canter tapped for one of nation's top dietetics honors
Submitted by Communications and Marketingv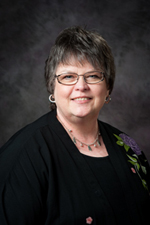 Deborah D. Canter, professor of dietetics at Kansas State University's College of Human Ecology and a longtime advocate for the dietetics profession, has been selected for one of the highest honors given by the Academy of Nutrition and Dietetics, formerly the American Dietetic Association.
Canter will present the 2012 Lenna Frances Cooper Memorial Lecture at the 2012 Academy of Food and Nutrition Conference and Expo in Philadelphia on Oct. 7. The invitation to give the lecture is an annual honor that goes to an academy member who has reached the pinnacle of the profession: has contributed to the profession through national and state service, has unique experiences in the profession, is a source of inspiration and an outstanding role model, and has the ability to communicate expert knowledge to a broad audience.
Canter will speak on "When Nothing Is Sure, Everything Is Possible."
"This is a prestigious honor for Dr. Canter, the college and Kansas State University," said Virginia Moxley, dean of the College of Human Ecology. "The academy is the world's largest organization for food and nutrition professionals and Dr. Canter has spent her career as an advocate for quality education for dietitians. We are proud of her contributions in our college and nationally."
"It is especially meaningful to me because I know who Lenna Frances Cooper was and what she stood for," Canter said. "Dietetic education is such a passion of mine."
Canter said she will talk about how the heritage of the academy strengthens the foundation of the vision for the future, recognize the synergy resulting from collaboration that can lead to the future and identify the necessity of individual as well as corporate leadership to achieve the vision.
"In turbulent times, true leaders surface," she said. "Each of us can be a leader at some time, in some place and about some issue."
Canter is a registered dietitian and a licensed dietitian. She has taught in the College of Human Ecology's department of hospitality management and dietetics since 1977. She received her master's and doctoral degrees from the University of Tennessee-Knoxville.
She provided leadership for the development of an online master's degree in dietetics with the Great Plains Interactive Distance Education Alliance and faculty from eight universities. It was the first degree program of its kind in dietetics. Her many honors include Professor of the Year for Kansas by the Carnegie Foundation and the Council for the Advancement and Support of Education and the American Dietetic Association's Foundation Award for Excellence in Practice in Dietetics Education and its Medallion Award for her leadership and contributions to the association and dietetics profession.
Canter is co-author of an introductory text widely used in dietetics programs across the county and is the author of two chapters in textbooks on the history of dietetics education.