July 9, 2012
K-State Olathe earns top 10 recognition in KC Business Awards
Submitted by Kristi Northcutt, K-State Olathe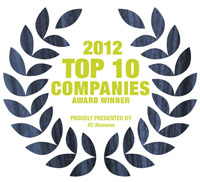 KC Business Magazine announced the Top 10 Companies for 2012 at a networking reception June 28 at the historic Firestone Building in Kansas City, Mo.
Kansas State University Olathe was named the winner of the innovation category.
"Each year we recognize the top companies that are making a difference in Kansas City," said Dara Macan, president and group Publisher for Anthem Publishing Inc., the parent company of KC Business Magazine. "We're pleased to showcase these impressive local companies and provide them with premier networking events in celebration of their great work."
Now in its sixth year, Top Companies is open to all companies — large, small, public or private. Local businessmen and women judge the competition, looking for innovative, well-rounded and growing businesses to round out the top 10. In addition, the awards highlight companies taking a unique approach to business while contributing to the community. Companies can enter 10 awards categories.
KC Business Magazine is proud to announce the other top 10 companies for 2012:
Lifestyle – Portfolio Kitchen & Home
Growth – Perceptive Software
Reinvention – Meers Advertising
Empowerment – Truman Medical Centers
Diversity – DuraComm
Phoenix – Block Real Estate Services
Corporate Cool – Gail's Harley-Davidson
Community Stewardship – NetStandard
Originality – Home Rental Services
"With more than 40 honorees this year, competition was high," Macan said. "Each of our 2012 Top Companies truly embodies the essence of their category."