March 12, 2018
K-State student groups, adviser named outstanding by CASE-ASAP
Submitted by K-State Alumni Association and KSU Foundation Staffs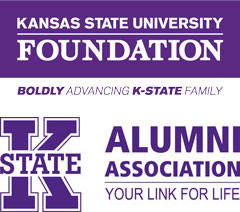 Two K-State student groups and one adviser were recognized for their efforts at the Council for Advancement and Support of Education-Affiliated Student Advancement Programs' District VI conference in February at the University of Oklahoma.
K-State's Student Alumni Board and Student Foundation were named 2018 Outstanding Organizations by CASE-ASAP District VI. Additionally, Marcus Kidd, Student Alumni Board's adviser, was named 2018 Outstanding Adviser. Student Alumni Board, Student Foundation and Kidd are in the running to receive the national awards in these categories. The winners will be announced this summer.
This is the second year in a row a Student Alumni Board adviser has been named outstanding adviser by the organization. Last year, Jessica Elmore, Student Alumni Board adviser and associate director of diversity programs for the K-State Alumni Association, earned the honor.
"These honors reflect the effort, time and dedication our organizations have put in place to showcase K-State," said Amy Button Renz, president and CEO of the K-State Alumni Association. "Through their leadership efforts, these student organizations help our entire K-State family build lifelong connections to the university."
Student Alumni Board is a program of the K-State Alumni Association. Board members are responsible for planning and hosting several programs to recruit students to K-State, including the For Sophomores Only program for high school sophomores and the Just For Juniors program for high school juniors and their parents. Student Alumni Board members also coordinate and assist with Wildcats Forever Student Alumni Association, Grad Bash, the Distinguished Young Alumni Award, Junior Wildcats Club and other K-State Alumni Association programs and events.
Student Foundation serves as the student arm of the KSU Foundation and engages current students in developing a culture of "Students Helping Students" by providing opportunities for philanthropic leadership throughout the year. Student Foundation members lead the annual Why I Give and K-State Proud campaigns, collaborates with the Office of Student Financial Assistance to provide Student Opportunity Awards to students in extreme financial need, and interact with donors and KSU Foundation trustees to offer student perspectives on philanthropy.
"Through their vision and commitment to serving the K-State community, the KSU Student Foundation has created a level of engagement for student philanthropy that is second to none," said Greg Willems, president and CEO of the KSU Foundation. "We're proud of their hard work toward building a culture of philanthropy that begins while they are students and will continue for a lifetime of supporting K-State."