Kansas State Polytechnic expands its small drone training to Denver
Monday, March 12, 2018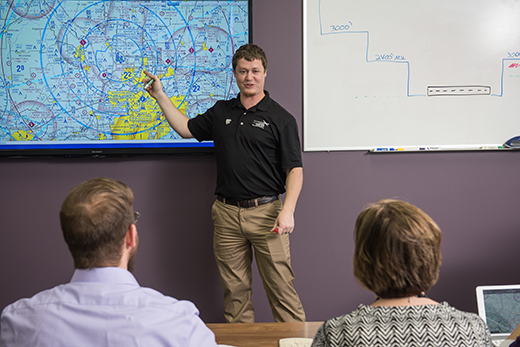 Unmanned aircraft systems education leader Kansas State University Polytechnic Campus will offer its Part 107 preparation course in the Denver area April 27-29. The course prepares those who want to operate small unmanned aircraft for the Federal Aviation Administration's written exam. | Download this photo.


SALINA — Kansas State University's Polytechnic Campus is again taking its unmanned aircraft systems, also known as drones, expertise on the road, offering its Part 107 preparation course April 27-29 in the Denver area.

The course is designed to prepare professionals for the Federal Aviation Administration's written exam, which is required for anyone wanting to operate a commercial small unmanned aircraft, or sUAS, who does not already hold a manned pilot certificate. It will focus on areas covered in the FAA written exam, including adherence to FAA rules and regulations pertinent to small unmanned aircraft operations, how to set up sUAS within FAA regulations and the application of safety practices in flight.

"This marks the fourth time we've taken our course off campus," said Kurt Carraway, Kansas State Polytechnic's UAS executive director of the Applied Aviation Research Center. "We offered a course last year in Dallas following XPONENTIAL and we just offered one in February when we went to Olathe, Kansas, to train its police department. We look forward to making new connections with our neighbors in Colorado."

This three-day Part 107 course is provided by the UAS experts at Kansas State Polytechnic, which has been offering several Part 107 courses since the FAA's regulation took effect in 2016. In a survey of course participants from 2016 to the most recent course offered in 2018, 100 percent of attendees recommended the UAS commercial pilot training course and reported they are extremely confident in their ability to adhere to FAA regulations around small UAS. Survey respondents also noted the course is a convenient way to network with other professionals using UAS technology, providing the ability for future collaborations.

Registration for the course is available ksu-uas.com/denver-suas-commercial-pilot-training/ or by contacting Kansas State Polytechnic Professional Education and Outreach at 785-826-2633 or profed@k-state.edu. Registration deadline is April 20. The sUAS Commercial Remote Pilot Training will be at the West Metro Fire Rescue Training Center in Lakewood, Colorado.

To inquire about UAS opportunities with the Applied Aviation Research Center, contact Carraway at 785-826-7170 or kcarraway@k-state.edu.