June 26, 2012
Free registration to on-campus employers for the 2012 Part-Time Opportunities Fair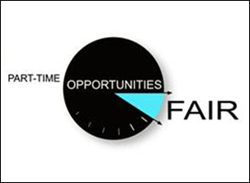 Need student employees for fall 2012? You can meet and interact with more than 900 K-State students seeking part-time and volunteer opportunities at the Part-Time Opportunities Fair, 10 a.m. to 3 p.m. Thursday, Aug. 23, in the K-State Student Union Ballroom on the second floor. The fair is an excellent way for community and campus employers to fill their part-time staffing needs. The number of students attending the fair continues to increase – 751 in 2009 to 912 in 2011 – and 100 percent of employers who attended last year's fair found candidate quality to be either ideal or very good.
Registration for the fair is now open, so register online today.
Unable to attend the fair or have positions that are not yet available? Post positions free any time by visiting our website at career and employment services or call 785-532-6506 for more information.
The Part-Time Opportunities Fair is sponsored by career and employment services and student hospitality is provided by Powercat Financial Counseling. If you have any questions or need assistance with registration, please contact Leah Adeniji, career and employment services at ladeniji@k-state.edu or 785-532-1685.