June 26, 2012
University distinguished professor of English shares expertise at national writers' conference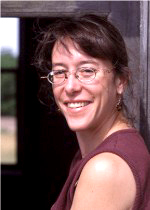 Elizabeth Dodd, university distinguished professor of English, served as a member of the conference faculty at the Kachemak Bay Writers' Conference in Homer, Alaska, June 8-12.
This nationally recognized writing conference features workshops, readings and panel presentations in fiction, poetry, nonfiction and the business of writing.
As a member of the conference faculty, Dodd made three presentations on topics connected to the craft of writing: "Home Grounding," "Implication and Exposition: Getting Beyond 'Show Don't Tell,'" and "'Truth' in Memoir."
Dodd also read from her own work and assisted conference participants with their writing.
More information about the conference is available at http://writersconference.homer.alaska.edu/index.htm.
For more information about Dodd's work, visit http://www.elizabethdodd.com/ and http://www.k-state.edu/english/people/alph/dodd.html.