June 20, 2012
Expanding opportunities: University of Queensland is K-State's next Australia partner
Submitted by Communications and Marketing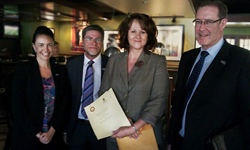 Kansas State University has signed another memorandum of understanding with an Australian university — The University of Queensland in Brisbane.
"We constantly look for high-level opportunities that tie in with our K-State 2025 goals, creating a culture of excellence that results in flourishing, sustainable and widely recognized research, scholarly and creative activities and discovery in a variety of disciplines and endeavors," said Provost April Mason. "These MOUs pave the way for a range of cooperative efforts in teaching, research and service through exchange of students, faculty and knowledge across different fields, encompassing the Manhattan, Salina and Olathe campuses."
K-State recently signed an MOU with the University of Western Australia. Also, specific student exchange agreements with both UQ and UWA, which will allow K-State students to spend one or two semesters in these institutions, are in the signature process.
"These agreements represent a new era of collaboration between world-class universities with similar strengths, values and interests," said Marcelo Sabatés, associate provost for international programs. He added: "While world rankings are a relatively new phenomenon, University of Queensland is arguably the highest ranked full-fledged partner in K-State history. Needless to say, this generates extraordinary opportunities for our community, ranging from sabbaticals to undergraduate and graduate research stays."
The University of Queensland, established in 1909, is one of Australia's premier learning and research institutions. UQ is a founding member of the national Group of Eight,­ a coalition of leading Australian universities intensive in research and comprehensive in general and professional education. Collectively, Group of Eight members account for 70 percent of all research income in Australia's university system, enroll more than half of all higher degree by research students, hold over 90 percent of U.S. patents for inventions, and generate 80 percent of spin-off companies created by Australian universities. UQ is ranked around 60-70 in the world in the most widely used world rankings.
In 2010, UQ awarded its 9,000th doctorate. UQ currently has 4,039 research higher degree students, including 3,593 doctoral students.
A Kansas State University executive delegation is visiting UQ in a trip including five cities in Australia to continue strategic discussions for collaborations in research development, education, faculty engagement and student and faculty exchange to move forward partnership agreements that will be content-rich and meaningful for each university.
A senior level delegation from The University of Queensland visited Kansas State and attended meetings last week with K-Staters. Escorted by Randy Tosh, university liaison for Australia initiatives, they met with K-Staters including: Provost Mason and her staff; Dan Richardson, CEO of K-State Olathe; Kent Glasscock, Kansas State University Institute for Commercialization president, and Bret Ford, director of animal health business development; Carol Shanklin, dean of the Graduate School, and Duane Crawford, associate dean of the Graduate School; Marcelo Sabatés, interim associate provost of the office of international programs, and Kristine Young, assistant provost for the office of international programs; Ron Trewyn, vice president for research; Steve Higgs, director of the Biosecurity Research Institute; Jim Guikema, associate vice president for research and sponsored programs; Jerry Jaax, associate vice president for research compliance; Walter Renberg, professor of clinical sciences; Marty Vanier, director of operations for the National Agricultural Biosecurity Center; Frank Blecha, dean of the Veterinary Medicine Center; Ernie Minton, associate director for Agricultural Experiment Station; Karli Webster, director of study abroad; Joe Milostan, study abroad advisor and Australia consultant; Mary K. Pyle, special assistant to the associate provost, program coordinator; Logan Gauby, study abroad peer advisor; Dirk Maier, head of the department of grain science and industry; Brian McCornack, assistant professor of entomology; Jeff Whitworth, associate professor of entomology; Tom Phillips, professor of entomology; Dave Margolies, interim department head of entomology; Jim Stack, professor of plant pathology; Subi Bhadriraju, professor of entomology; and Ron Madl, administrator for grain science and industry.