January 16, 2018
Human Capital Services designing Unclassified Supervisory Program
Submitted by Human Capital Services-Learning and Development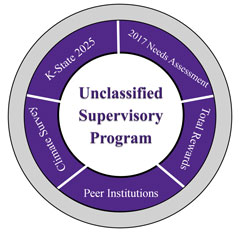 Human Capital Services has started designing and developing an Unclassified Supervisory Program. Learning and Development unit and Employee Relations and Engagement unit will lead the initiative and seek input from various K-State stakeholders.
The supervisory program will incorporate many of the professional development priorities identified in the 2017 Professional Development Needs Assessment from March 2017. Those priorities include managing and resolving conflict, building effective teams and performance management. The development of this employee certificate program fulfills the K-State 2025 Human Capital Services' outcome stating supervisory training exists for all employees.
The Needs Assessment had a 28.30 percent response rate from approximately 5,800 K-State employees. Data collection and analysis were completed and results were shared in June 2017 on the Human Capital Services website. In the published results, 10 professional development priorities were identified along with three certificate programs, which included leadership development, project management and an unclassified supervisory program.
Further information was collected throughout the fall by conducting a GAP analysis. K-State resources and priorities were considered for program development as they related to K-State 2025, Human Capital Services' Total Rewards initiative, climate survey results and peer institutions' programming. Additionally in fall 2017, interactive innovation sessions were conducted with varying K-State stakeholders to gather feedback regarding their interest and support for future programming goals.
To stay up to date regarding progress with this initiative, and other HCS goals, please visit the Human Capital Services website.