January 16, 2018
APDesign student wins Manko design competition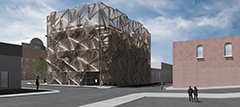 Kasey Holle, Wamego, a fourth-year architecture student at Kansas State University, is receiving a $5,000 scholarship as the winner of a College of Architecture, Planning & Design, or APDesign, competition sponsored by MANKO Window Systems in Manhattan.
Holle's project was the "KC Film Institute in the Crossroads District of Kansas City, Missouri." The design was an assignment in her fourth-year comprehensive studio class, taught by Genevieve Baudoin, assistant professor, requiring students to integrate conceptual and technical knowledge into one complete project for a presentation with drawings, renderings and models. Following a review, one student from each studio was selected to compete for the MANKO award, with each developing a narrative digital presentation to present to judges, who were all established practitioners in the field.

As part of her graduation requirements, Holle will study abroad for the spring 2018 semester at Czech Technical University in Prague, Czech Republic, and will graduate in May 2019.

The competition jury included alumnus Scott Schuster of Echo Architecture, alumnus Dru Schwyhart of Semple Brown and Erik "Rick" Sommerfeld from the University of Colorado, Denver.

The following fourth-year architecture students also were selected for the MANKO competition:
Stephen Bregande, St. Louis, Missouri, representing the BNIM studio; Jacob Coombes, Hobbs, New Mexico, representing the studio of Todd Gabbard, associate professor of architecture; Dylan Schoenfeldt, Shawnee, representing the studio of Michael McGlynn, associate professor of architecture; Chandlor Wilson, Denver, Colorado, representing the studio of Dragoslav Simic, associate professor of architecture; and Kaden Beilman, Hays, representing the studio of Bruce Wrightsman, assistant professor of architecture.