January 5, 2018
Save the date: Martin Luther King III to speak on campus Jan. 25
Submitted by Office of Diversity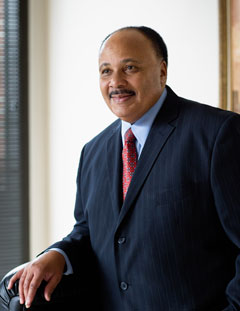 Kansas State University will celebrate the 50th anniversary of Martin Luther King Jr.'s visit to campus with a variety of events during Dr. Martin Luther King Jr. Observance Week, Jan. 19-26.
As part of the week's events, Martin Luther King III, the oldest son of the late Martin Luther King Jr. and Coretta Scott King, will deliver a lecture at 12:30 p.m. Thursday, Jan. 25, in Forum Hall in the K-State Student Union. A candlelight vigil will follow.
King III serves as an ambassador of his parent's legacy of nonviolent social change. As the elected president of the Southern Christian Leadership Conference — the organization co-founded by his father — King reinvigorated the conference by stabilizing the governance, program and development components.
King III also founded and currently serves as president of Realizing the Dream Inc., taking his father's message to a global audience and spearheading nonviolence training in Bosnia Herzegovina, India, Israel, Kenya, Sri Lanka and the United States.
There is no charge to attend the lecture, but tickets are required. Ticket information will be announced at a later date.
***This article was edited to reflect a change in venue. ***