November 16, 2017
K-State Entrepreneurship Day showcases student and community entrepreneurial talent
Submitted by Brent Fritzemeier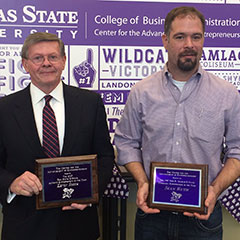 Student innovation and community support were on display during K-State Entrepreneurship Day at the university's Center for the Advancement of Entrepreneurship.
The day featured a variety of events including the announcement of several awards and scholarships, a keynote speech, and the finals of the K-State Launch student entrepreneurial idea competition.
As part of the festivities, the center partnered with the K-State Alumni Association and the Manhattan Area Chamber of Commerce to select and honor both an alumni and a local community member for their outstanding entrepreneurial spirit, innovation, personal integrity, strategic direction, market impact and social responsibility. The Phil Howe Alumnus Entrepreneur of the Year award was presented to Kevin Smith, partner and strategic advisor with KMG Capital Partners in Denver, Colorado, while the John R. Graham Community Entrepreneur of the Year Award went to Sean Ruth, president and founder of Redi Systems.
Also announced was the fall 2017 recipient of the Butler Family Scholarship in Entrepreneurship, Natalie May, sophomore in entrepreneurship, Peck, who will receive the $2,500 scholarship each semester.
The keynote speech was presented by Scott Redler, co-founder and chief operating officer of Freddy's Frozen Custard and Steakburgers as part of the fall Entrepreneurship Speaker Series, which brings successful entrepreneurs into the classroom to share their stories.
Wrapping up the day's events were the finals of K-State Launch, an entrepreneurial idea competition open to students from all majors. After narrowing the field down to 10 finalists through preliminary judging, each student had the opportunity to deliver a business pitch to a panel of judges that consisted of local entrepreneurs, bankers and investment experts which had $6,000 in prize money to distribute to the companies they felt showed the most promise. In the end, six businesses were awarded cash prizes by the judges' panel.
Austin Chauncey, senior in mathematics and computer science, Manhattan, and Melanie Wertzberger, junior in finance, Hiawatha, were awarded $2,000 for their pitch for AdviseMe, an academic advising and degree auditing SAAS platform, allowing students and their advisors to work proactively on their personalized degree completion plan.
The next award of $1,500 went to Laura Rozell, graduate student in hospitality and dietetics, and Sam Rozell, senior in electrical engineering, both of Manhattan. Their pitch was for Ido Watch, a wrist-worn galvanic-skin-response sensor with wireless connectivity and an accompanying iPad app.
The third place award of $1,000 went to Chelsea Werdel, sophomore in business, Manhattan, for Genie in a Bottle Salon Management Consulting Firm. She plans to advise salon and spa businesses, stylists, and barbers in the following areas: organizational design, human resources, corporate strategy, information technology strategy, marketing and sales, social media, finances and logistics.
Rounding out the prizes were three honorable mention awards of $500 that went to:
• The Bison Agrotech team of Nelson Ramello, doctoral student in physics, Cordoba, Argentina; and Herman Coceancigh, doctoral student in Chemistry, Buenos Aires, Argentina.
• The Chakula Utoaji team of Garrett Wilkinson, senior in nutritional sciences, microbiology and pre-medicine, Hutchinson, and Nick Bouzianis, junior in nutritional sciences, Topeka; and
• Vented and Vetted Solutions, Abdullah Choudhry, senior in mechanical engineering, Gujranwala, Pakistan.