November 14, 2017
KSUnite and Unity Walk today
Submitted by Division of Communications and Marketing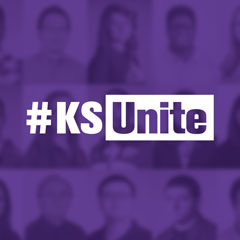 Kansas State University will be closed from 1-3 p.m. Tuesday, Nov. 14, for the K-State Unity Walk and KSUnite program on Anderson Hall lawn. All students, faculty and staff are encouraged to wear purple and join together for the event, which will take place rain or shine.
University police will close Mid-Campus Drive, Vattier Street, and Butterfly Lane to vehicular traffic during the event as part of the many security measures established. Parking is available east of McCain Auditorium and in the K-State parking garage. Individuals with additional questions about security and transportation can visit the FAQ page or shuttle information page.
Beginning at 1 p.m., attendees may walk from their own buildings/locations to Anderson Hall lawn or may choose to walk from one of the following designated meeting points on campus:
College of Business Building, south door.
Derby Dining Center, south door entrance near Derby Bakery.
Dole Hall, east door.
Kramer Dining Center, Wefald Hall main entrance.
K-State Student Union, ground floor courtyard.
Nichols Hall, north door.
Employees who have questions about the events with regard to work time can visit the FAQ page for more information.
A short KSUnite program at 1:30 p.m. on Anderson Hall lawn will include speakers: Mary Tolar; Tanya González; Darrell Reese, president of the Black Student Union; Troy Bowers; and Jack Ayres, student body president. President Richard Myers will provide a message of unity and outline steps that all K-Staters can take as the community moves forward.
Following the program, K-Staters may participate in facilitated conversations about inclusive education, reflection and action. Conversations will begin at the K-State Student Union approximately 15 minutes after the conclusion of the program on Anderson Hall lawn. See the full schedule online.