May 15, 2012
The Mark and Jean Miller IMSE Scholarship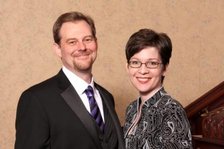 During their senior years at Kansas State University, Mark and Jean Miller could be seen pushing a stroller back and forth to campus as they exchanged kids between classes — not something you see every day on the campus of a university. But the Millers embraced being nontraditional students and didn't let the challenges of being married with children act as a barrier to success.
In fact, it's those humble origins that helped them develop the ambition to be successful in all their pursuits. Mark Miller, who graduated from the College of Engineering in 1992, is a senior executive with Accenture, where he has worked for 20 years. He was recently recognized by the college's Seaton Society with the Professional Progress in Engineering award. Jean Miller balances promoting her cookbook "CONFIDENT in the KITCHEN" with philanthropic work at a local Title I grade school, teaching at-risk children to read.
Living in Charlotte, N.C., the Millers may be more than 1,000 miles away from Manhattan, but it doesn't stop them from being involved with K-State. Mark Miller serves on the advisory board for the department of industrial and manufacturing systems engineering, and both Millers are members of the Charlotte K-State Spirit Club. Recently, they elevated their support of the university to new levels, making a $25,000 pledge to establish and endow a scholarship in industrial and manufacturing systems engineering.
The Millers' motivation to establish a scholarship at K-State has its origins in their days as young student parents working hard to raise a family while obtaining an education. They believe that they could not have done both without the support of scholarships.
One scholarship was particularly memorable. When Mark Miller was awarded the Greg Hardin Memorial Scholarship in 1990, he and his wife had an opportunity to meet and have dinner with the Hardins, an inspirational experience that has stayed with them throughout their lives.
"The Hardins had a son who passed away before he graduated, and they established a scholarship in his honor," Mark Miller said. "Meeting them in person made us realize that someday we wanted to reach out to others as they had reached out to us."
"We think of all the helping hands that have touched our lives in one way or another, and then we think of where we would be if they had not been there for us," Jean Miller said. "We may not be able to pay those people back, but we can pay it forward. In our hearts, that's what the establishment of this scholarship is all about."