May 15, 2012
Innovative HDTV production television trailer for Greensburg, Kiowa County to be displayed on campus May 22
Submitted by Communications and Marketing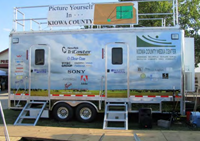 The product of a special partnership between Kansas State University and Kiowa County, Kansas, that is creating a new model for community communications will be on display May 22.
The Kiowa County Media Center's HDTV Production Trailer will be on display and fully operational from 10 a.m. to 4 p.m. Tuesday, May 22, in the far west side of the parking lot between Dole Hall and Umberger Hall. The trailer will be set up around 9 a.m., and people interested in watching this occur are encouraged to attend.
The Kiowa County Media Center is organized as the Kiowa County, Kan., Media Center Foundation Inc. and supported by the Kiowa County Board of Commissioners. It has four innovative components, including a permanent media facility in Greensburg, the production trailer, a high-speed wireless system and a high definition signal backhaul system, which will link remote broadcast sites across Greensburg to the Media Center.
The trailer was created to provide sophisticated resources to the residents of Kiowa County for easy broadcast of community events, education in live remote television productions, to jumpstart media center activities, and to provide a fully-realized model of a high definition television production trailer. It will allow many new endeavors in community communications for Greensburg and Kiowa County. Students and community members with little actual training can operate the trailer's sophisticated production equipment. The trailer's technical features will allow citizen journalists in Greensburg to produce broadcast quality content that can be streamed live over the Internet.
A variety of high-quality video equipment is included within the trailer. The trailer, specially built by Brown Specialty Vehicles of Lawrence, is fully insulated, heated and air-conditioned. It features a custom-designed television production interior with full interior access. A full-length television camera platform is located on the roof with a foldout access ladder at the rear. A Will-Burt pneumatic telescoping antenna mast mounted at the rear of the trailer facilitates wireless connectivity.
The powerful integration of HD television technologies represents a cost-effective approach to producing broadcast-quality television.
Brandon Utech, computer systems analyst for the Division of Communications and Marketing, and Bert Biles, executive producer for the Division of Communications and Marketing, installed all of the equipment in the trailer and wired it in Manhattan during summer 2010. The trailer was later debuted at the 2010 Kansas State Fair in Hutchinson.
"Community engagement is an important component of this effort as well as K-State's visionary 2025 plan," said Jeffery Morris, university vice president for communications and marketing. "We are pleased to have assisted with the Kiowa County Media Center's HDTV Production Trailer project and look forward to future growth in the county and the advancement of a new model of community communication."
Read more about the trailer's technical features and capabilities online.