November 3, 2011
Beach Mueum of Art presents 'Folk Art in Kansas'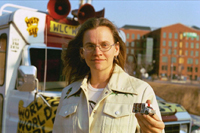 The Marianna Kistler Beach Museum of Art at Kansas State University will host "Folk Art in Kansas," a presentation and discussion by Erika Nelson at 5:30 p.m. Thursday, Nov. 3. Members of the community are invited to attend the free program. The program is made possible by the Kansas Humanities Council.
From wheat weaving and egg painting traditions passed down from immigrant ancestors to visionary environments composed of cement sculptures or metal whirlygigs and the internationally renowned work of Elizabeth "Grandma" Layton, Kansas folk art represents the innovative spirit of the state. Nelson's presentation will look at folk art and "outsider" art as a part of Kansas history and heritage.
Nelson is an independent artist, educator and director of World's Largest Things Inc. Nelson explores the back roads of the United States in search of the odd and unique in her mobile museum, The World's Largest Collection of the World's Smallest Version of the World's Largest Things. When not on the road, Nelson promotes and participates in her adopted home community of Lucas.
"I've spent the last nine years as an independent artist and educator, exploring the nooks and crannies of the United States seeking out the odd and unusual," Nelson said. "I gather stories of people who build outsider art environments, as well as roadside vernacular architecture, known as World's Largest Things, examining the overlaps between traditional and nontraditional artistic expressions. Many untrained arts and artists come from a handcraft or folk art tradition, and take them to unexpected, expanded form. The connection to community and visual explorations combine in the Folk Art in Kansas presentation."
Folk Art in Kansas is part of the Kansas Humanities Council's Kansas 150 Speakers Bureau commemorating the Kansas sesquicentennial. The special edition Speakers Bureau features presentations and discussions about Kansas and what it means to be a Kansan over time and across generations.
The Kansas Humanities Council conducts and supports community-based programs, serves as a financial resource through an active grant-making program, and encourages Kansans to participate in their communities. For more information about KHC programs contact the Kansas Humanities Council at 785-357-0359 or visit online.