October 6, 2017
Strategic enrollment management consulting
Submitted by President Richard Myers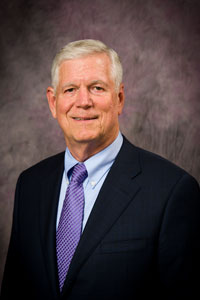 Dear faculty and staff,
As mentioned in my State of the University Address, K-State has started the process of hiring a strategic enrollment management consultant.
When selected, we will ask the consultant to review current enrollment operations and provide some recommendations for strategies and best practices. April Mason, provost and senior vice president, and Pat Bosco, vice president for student life and dean of students, are directing the project.
The ideal consultant will help us develop an effective foundation to grow enrollment now and in the future. Proposals from interested vendors are due in mid-October and the selection committee intends to award the contract in mid-November. Work begins as soon as possible.
We've created a group of K-Staters to assist the selected vendor. These individuals are experts in their areas and can provide context, support and information. They are listed below.
Once the vendor has been selected, K-State will finalize plans for strengthening our enrollment process and welcoming the next generation of Wildcats. Please stay tuned for updates on this initiative.
Go Cats!
Richard B. Myers
President
| | | |
| --- | --- | --- |
| Unit | Name | Title |
| Office of Student Financial Aid | Robert Gamez | Director of Student Financial Assistance |
| Office of Admissions | Molly McGaughey | Director of Admissions |
| Office of the Registrar | Robert Auten | Associate Registrar |
| Office of International Programs | Grant Chapman | Interim Associate Provost |
| Global Campus | Long Huynh | Associate Dean for Enrollment Management and Marketing |
| College of Engineering | Gary Clark | Senior Associate Dean |
| College of Agriculture | Don Boggs | Associate Dean for Academic Programs |
| College of Business | Bente Janda | Assistant Dean for Undergraduate Student Services |
| College of Arts and Sciences | Kimathi Choma | Assistant Dean for Diversity, Recruitment, and Retention |
| Graduate School | Carol Shanklin | Dean |
| Division of Communications and Marketing | Jeff Morris | Vice President for Communications and Marketing |
| Office of Planning and Analysis | Brian Niehoff | Associate Provost for Institutional Effectiveness |
| College of Architecture Planning & Design | Lynn Ewanow | Associate Dean |
| College of Human Ecology | Bronwyn Fees | Associate Dean for Academic Affairs |
| College of Education | David Griffin | Assistant Dean for Diversity and Director of Student Services |