September 28, 2017
'Becky Shaw' performs in the Purple Masque Theatre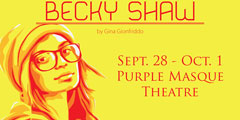 Performing on the K-State Theatre second stage in the Purple Masque Theatre is "Becky Shaw," a dramatic comedy by Gina Gionfriddo, directed by Jonah Ericson.
Showtimes are at 7:30 p.m. Thursday, Sept. 28, through Saturday, Sept. 30, and at 2:30 p.m. Sunday, Oct. 1.
The plot: A newlywed couple fixes up two romantically challenged friends. When an evening calculated for happiness takes a dark turn, crisis and comedy ensue in this wickedly funny play that asks what we owe the people we love and the strangers who land on our doorstep.
Tickets are $9 for the general public, $7.75 for seniors, military, faculty and staff, and $5.75 for students and youth. They can be purchased at the online K-State Theatre and Dance box office, by phone at 785-236-8638, or one hour prior to show time in the performance venue.
All tickets, regardless of purchase method, are free from convenience fees and sales tax is included.