September 11, 2017
Retirement reception for Sue Maes on Sept. 25
Submitted by Office of the Provost and Senior Vice President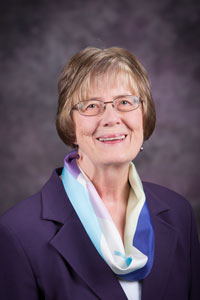 The K-State community will host a retirement reception in honor of Sue Maes, dean of K-State Global Campus, from 3-5 p.m. Monday, Sept. 25, in the K-State Alumni Center Ballroom. All K-Staters are invited to celebrate.
President Richard Myers; Provost and Senior Vice President April Mason; Bruce Woods, Maes' friend and former colleague from UFM; Virginia Moxley, retired dean of the College of Human Ecology; and Mo Hosni, professor of mechanical and nuclear engineering; will provide remarks starting at 4 p.m. about Maes's contributions to the university.
After 48 years of service, Maes will begin her well-deserved retirement in October. She has served the university in many roles and focused on adult learning and access to education. Her most recent accomplishments include the successful transformation of the Division of Continuing Education into K-State Global Campus, which was recently ranked as the one of the Top 25 online programs nationwide.
During her tenure with Global Campus, the number of students graduating with a degree earned online has more than doubled. The campus now supports more than 70 online undergraduate and graduate degrees as well as certificate and endorsement programs. Through Maes' leadership, financial support for creating new online programs has increased significantly and the number of scholarships awarded to part-time, online, degree-seeking students has increased sevenfold. In addition, unique conferences hosted through Global Campus has grown as well.
Maes' commitment to education is evident through her numerous professional awards and accolades, including the UPCEA Julius M. Nolte Award for Extraordinary Leadership. Equally as impressive is her service to professional continuing education associations and in higher education organizations. She helped establish the UFM Community Learning Center and has aided in the development of the Great Plains Interactive Distance Education Alliance, the University Engineering Alliance, the Rural Clearinghouse for Lifelong Education and the Institute for Academic Alliances.
Read more about Maes' accomplishments in June 27 message from Provost and Senior Vice President April Mason, announcing the retirement. All are welcome to join faculty, staff and students to celebrate an accomplished career and valuable member of the K-State Family.