September 11, 2017
New veterinary clinical education coordinator publishes textbook on small animal examinations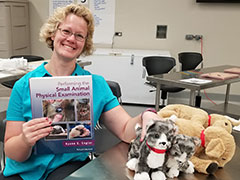 Although Ryane Englar is a relatively new faculty member in the College of Veterinary Medicine, first-year students can expect her to go by the book — her own new textbook — which just published in August.
"Performing the Small Animal Physical Examination" is the first textbook written by Englar and was published by Wiley-Blackwell.
Englar was hired in May to help fulfill a priority in the college's new Strategic Plan of providing clinical experiences and skills in all years of the Doctor of Veterinary Medicine curriculum. Previously, clinical training was only formally provided in the third and fourth years of study.
"We are thrilled to provide clinical skills training starting with the very first week of veterinary school, said Bonnie Rush, acting dean of the veterinary college. "Dr. Englar's experience and expertise has allowed us to implement clinical skills training more quickly than anticipated. We are also getting help from clinical skills technician, Susan Rose, who is tremendously talented. She has designed models that facilitate proficient hand-skills and procedural familiarity in low stakes environment."
"Everything I do, it's always for the students," Englar said. "They are my heart and soul, and they are why I do what I do. Veterinary students are my greatest passion, so it is very exciting to help provide new opportunities for students to develop the skills they will need as practicing veterinarians."
Before her appointment as an assistant professor at Kansas State University, Englar was on the faculty at Midwestern University's Glendale, Arizona, campus, which opened its door to its inaugural class of veterinary students in 2014. She was responsible for establishing the pre-clinical communications curriculum for Midwestern.
Englar earned her Doctor of Veterinary Medicine in 2008 at Cornell University. She is a diplomate of the American Board of Veterinary Practitioners, certified in canine and feline practice. Her research and special interests are in feline medicine, clinical communication, relationship-centered care and the human animal bond.