September 19, 2017
'Black Cowboys along the Chisholm Trail' at K-State Libraries
Submitted by Sarah McGreer Hoyt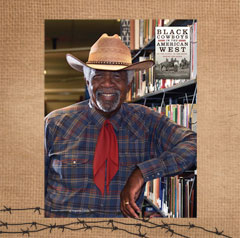 Learn about the black cowboy experience from Civil Rights Movement veteran and Augusta University Professor Emeritus Michael N. Searles — also known as Cowboy Mike.
Cowboy Mike will enlighten and dispel myths about the Wild West from 3-4 p.m. Thursday, Sept. 28, in the Hemisphere Room on Hale Library's fifth floor. More than a lecturer, Cowboy Mike brings the lives of black cowboys on the western frontier to the fore with his persona and display of artifacts.
Cowboy Mike has spoken to diverse groups, including schools and colleges across the nation and abroad. As an award-winning editor and writer, he has contributed scholarship on black cowboys, Buffalo Soldiers, and the black West.
The event is presented in conjunction with the final weeks of K-State Libraries' "Chisholm Trail: History & Legacy." This free exhibit is part of a regional celebration of the trail's 150th anniversary. On view through Oct. 13 in Hale Library's fifth-floor gallery, it includes selections from the Richard L. D. and Marjorie J. Morse Department of Special Collections, the Kansas City Museum, and K-State's Historic Costume and Textile Museum.
Following his presentation, Cowboy Mike will sign copies of his book, "Black Cowboys in the American West." For more information, contact libsc@k-state.edu.
Cowboy Mike also will appear at the Manhattan Public Library from 7-8 p.m. Thursday, Sept. 28, in the auditorium. Contact Diedre Lemon, 785-776-4741, ext. 300, for more information.