September 1, 2017
Movement Challenge week one results are in
Submitted by Human Capital Services - Benefits
The 2017 Movement Challenge week one ended Aug. 27 and the week one results are in.
It's never too late to work on adding more activity to your day or engaging a colleague to be active with you. The Movement Challenge offers two ways for departments to compete. At the end of the challenge, the Movement Challenge team will name one department the winner of highest activity and one department the winner of highest participation.
Week one's challenge was to participate in a healthy organized event. Each week, prizewinners are selected from postings on social media using the hashtag #purpleisprogress and from those who enter activity in each week's eReport.
See the week one drawing winners and departmental leaderboards on the Movement Challenge website.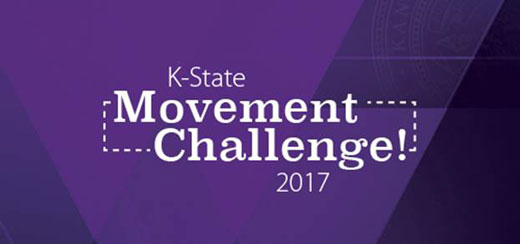 There is still time be entered for the week two drawing! Week two's challenge is to be active with a colleague. Take a walking meeting, meet up with the Women of K-State Wednesday Walks, or find a way to promote healthy physical activity during the day within your office or department.
Week three's upcoming challenge is to be active by playing a game. Gather your family or friends and play a game of horseshoes, play some basketball or have a bike race. Document your fun by sharing your photo using #purpleisprogress to be entered to win the week three prize.
Human Capital Services hopes you'll join your fellow K-Staters and take part in the challenge. To learn more, visit the Live Your Best, #PurpleIsProgress website.