August 18, 2017
Steward named fellow of professional engineering society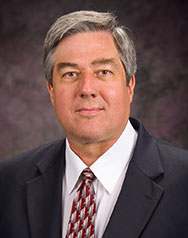 David Steward, professor of civil engineering at Kansas State University, has been named to fellow status by the American Society of Civil Engineers. Fellows in the society are those recognized for their "celebrated contributions and developed creative solutions that change lives around the world." The prestigious honor is held by only 3 percent of the membership.
Holding the endowed position of the Thomas and Connie Paulson Civil Engineering Outstanding Faculty Member, Steward leads a research program addressing the challenge of water resources for society. He initiated and led weekly interactions of the Consortium for Global Research on Water-Based Economies at K-State with colleagues across the colleges of Architecture, Planning & Design; Agriculture; Arts and Sciences; Engineering; and Veterinary Medicine. This team pioneered use of interdisciplinary geospatial data with computational models to analyze and forecast system interactions across water, agricultural production, crop choices and economics and demographics. These endeavors have been funded by more than $15 million in research grants.
Steward received his bachelor's, master's and doctorate degrees in civil engineering, and a master's degree in mathematics, all from the University of Minnesota. He was awarded the 2014 Frankenhoff Outstanding Research Award, a peer-chosen award given to the faculty member who is the best researcher in the College of Engineering at K-State, and is currently president-elect of the Kansas section of the American Society of Civil Engineers.