August 18, 2017
Celebrate Great American Eclipse Aug. 21 with K-State, wear protective eyewear
Submitted by Division of Communications and Marketing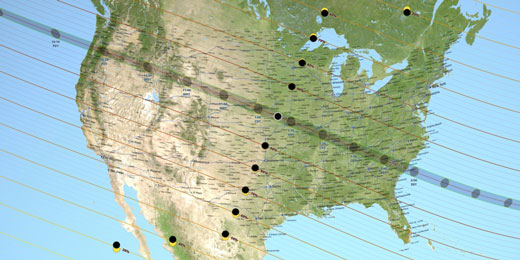 Celebrate the Great American Eclipse with K-State on Monday, Aug. 21.
A Total Solar Eclipse Watch Party will be from 8 a.m. to 3 p.m. Monday, Aug. 21, at East Hills Mall in St. Joseph, Missouri. The K-State Alumni Association will host a family friendly watch party with access to East Hills Mall activities. More information is available at facebook.com/events/821511151339533.
An eclipse viewing event will be from 11 a.m. to 1 p.m. Monday, Aug. 21, in Bosco Student Plaza on the Manhattan campus. The Union Program Council will host a partial eclipse viewing event with live music and giveaways. More information at kstateupc.com.
If you choose to watch the total eclipse in the path of totality or the partial eclipse from a different location, proper eye protection is essential to fully enjoy the experience. Lafene personnel remind K-Staters that looking directly at the sun without approved protection can severely damage eyesight.
"Everyone at Lafene is looking forward to the upcoming solar eclipse and we hope those viewing this exciting event do so with caution and protection," said Dr. Kyle Goerl, a physician and associate medical director at Lafene. "Please be safe and protect yourself by using special-purpose solar filters like eclipse glasses or hand-held solar viewers."
View a list of approved eclipse glasses and additional eye safety tips from the American Astronomical Society. Sunglasses and homemade filters will not provide adequate eye protection.
Free K-State eclipse glasses will be available at several campus locations. Find more information and additional resources at k-state.edu/eclipse.
Fred Espenak, "Mr. Eclipse" and scientist emeritus of NASA's Goddard Space Flight Center, discusses the Great American Eclipse.
Photo courtesy of NASA.