August 7, 2017
K-State agronomy faculty receive national awards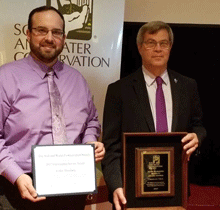 Two K-State faculty members in the agronomy department received prestigious awards at the 72nd International Annual Conference of the Soil and Water Conservation Society Aug. 2 in Madison, Wisconsin.
Chuck Rice, university distinguished professor, received the Hugh Hammond Bennett Award; and Colby Moorberg, assistant professor, received an Outstanding Service Award.
The Hugh Hammond Bennett Award recognizes extraordinary national and international accomplishments in the conservation of soil, water and related natural resources.
In honoring Rice with this award, the society noted that Rice is recognized as one of the world's leading soil microbial ecologists.
According to a press release from the society, "He has made significant contributions to the fields of agronomy and soil science through teaching, research, and service. He is a highly recognized leader in sustainable agriculture, no-tillage, soil organic matter, carbon sequestration and greenhouse gas emissions, and climate change, among others."
Rice has published more than 100 peer-reviewed journal articles, many with international collaborators. Most notable is his work on the Intergovernmental Panel on Climate Change (2007, 2014), for which the authors received the 2007 Nobel Prize.
In addition, Rice serves on the Board of Trustees for the International Center for Tropical Agriculture. He has been elected to chair one of the International Union of Soil Sciences commissions and serves as the Soil Science Society of America liaison to the Global Soil Partnership.
The Outstanding Service Award is given to society members in recognition of distinguished service in helping the society to develop and carry out its program over a long and sustained period of time.
In honoring Moorberg with this award, the society stated that he has advanced soil and water conservation efforts through recruitment to and development of student chapters of the society, community outreach and educating the next generation of conservationists.
For the last 10 years, Moorberg has served in various leadership roles within the society both at the student level and at the national level, which includes his present role of chair of the Professional Development Committee, a role he's held since 2015. In addition to Soil and Water Conservation Society leadership roles, Moorberg has been actively involved in community outreach throughout the last 12 years by communicating the concepts of soil and water conservation to various community groups.