June 29, 2017
Agronomy professor recognized for international work on soils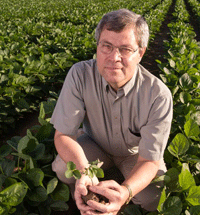 Chuck Rice, university distinguished professor of agronomy and recipient of the Mary L. Vanier University Professorship, has been awarded the International Agronomy Award from the American Society of Agronomy and the International Soil Science Award from the Soil Science Society of America. He will receive the awards at the associations' annual meetings this fall in Tampa, Florida.
The International Agronomy Award recognizes outstanding contributions in research, teaching, extension, or administration made outside of the U.S. by a current agronomist. The International Soil Science Award recognizes outstanding contributions to soil science on the international scene.
During his career at K-State, Rice has made a significant contribution to international agronomy and soil science through teaching, research and service, said Dorivar Ruiz Diaz, associate professor of agronomy at K-State.
"Dr. Rice has had multiple international teaching activities through formal classroom teaching and informal student tours. He has encouraged faculty to gain international experience and lead student tours. K-State Agronomy now has a regular course for international experience as a direct result of Dr. Rice's effort. More than 50 students have participated in the program in the past two years," Ruiz Diaz said.
One unique feature of his classroom teaching is live streaming of classes at K-State and Federal University of Santa Maria simultaneously, Ruiz Diaz added. This enhances the cultural experience and the different views of the students from the two countries.
Rice has visited more than 33 countries on professional business through joint research, invited talks and mentoring. He is exceptionally well known for his research on the impacts of climate change on agriculture and soil carbon and nitrogen cycling. He has co-authored more than 12 journal articles with international collaborators.
Most notably, he served on the United Nations' Intergovernmental Panel on Climate Change to help author the reports on Climate Change in 2007 and 2014. As such, Rice was among scientists recognized when the report won the Nobel Peace Prize in 2007.
He serves on the Board of Trustees for the International Center for Tropical Agriculture, and has been noted by the center's director general, Ruben Echeverria, for his contributions.
"For decades, Dr. Rice has been a tireless champion of innovative soil science and its importance for sustainable agriculture around the world. His work has helped give us a better understanding of the importance of soil science in responding to some of the most pressing challenges of our time, from food insecurity to climate change," Echeverria noted.
At K-State, Rice endowed an International Agronomy Lecture, another example of his commitment to international soil science.
"Through his influence and active participation in international activities, Dr. Rice has touched many lives from around the world and across all levels, from undergraduate students to fellow scientists to policy makers," Ruiz Diaz said.