June 29, 2017
Report features article, software developed by K-State civil engineering professor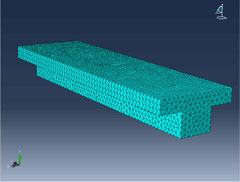 Hayder Rasheed, professor of civil engineering at K-State, developed a touch-enabled user interface to allow artificial neural network models to be utilized for on-site damage evaluations and accompanying software was also developed at K-State.
The research was recently featured by a report from the Institute for Transportation at Iowa State University and published in the National Academy of Science's Transportation Research Board e-newsletter.
The report examines the artificial neural network approach to structural health monitoring that may augment visual inspection methods by developing a crack-induced damage quantification model for reinforced concrete bridge girders.