June 16, 2017
K-State institute celebrates military spouses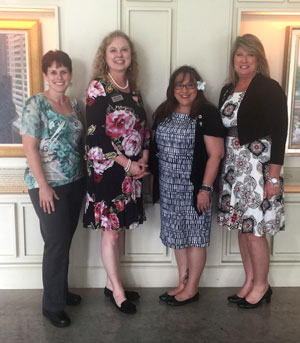 K-State students and military spouses gathered for a luncheon May 10 at the Marianna Kistler Beach Museum of Art in honor of Military Spouse Appreciation Day. The luncheon was the second annual recognition celebration of a day K-State's Institute for the Health and Security of Military Families plans to observe every year. The luncheon is intended to recognize and honor military spouses from K-State, Fort Riley, the Kansas National Guard and the community. Speaking at the luncheon was Lisa Hallett, Gold Star spouse. Three Resilience Awards also were bestowed.
Hallett is the president and co-founder of wear blue: run to remember, which is a community of runners. In August 2009, Hallett's husband, Capt. John Hallett, was killed when his Stryker was attacked with an improvised explosive device in southern Afghanistan. After the loss of her best friend and father of her three children, Hallett turned to running and found a community of support. Creating wear blue gave her a healthy outlet for grief and direction to move forward, and she's committed to sharing that with others.
Hallett has her master's degree from the University of Hawaii and bachelor's degree in English literature from the University of California, Santa Barbara. She completed her fifth ultra-marathon in December 2013 and six Ironman races — including the Ironman World Championships. Hallett was appointed by President Barack Obama as a commissioner on the American Battle Monuments Commission in December 2016. Hallett and her children are moving forward and loving life, honoring John with every step.
Resilience is a quality mentioned over and over again, said Briana Nelson Goff, director of the institute, as she recognized three Military Spouse Resilience Award honorees: K-State staff member and veteran spouse Karen Cunningham; community member and veteran spouse Roberta "Bobbie" Hanlon; and community volunteer and veteran spouse Christine Benne.
Cunningham is the spouse of a retired Army soldier who served in five deployments. Jack Cunningham describes his wife as "the rock who has kept us and our family together. She has been there for me during the difficult times to support me and keep me moving forward." Cunningham also supported her husband as he returned to K-State to earn his bachelor's degree in civil engineering, and he's now working on his master's degree. She manages the Chick-fil-A in the K-State Student Union. Cunningham is a member of the Capital City Roller Girls, a community service nonprofit organization in Topeka. She is passionate about supporting all service members and veterans.
Hanlon has served as Fort Riley's 1st Infantry Division family readiness coordinator, and as her job ended, she found a way to continue serving the division as a volunteer, completing their newsletter. In the words of her husband, "If there is something that needs to be done, Bobbie just doesn't know how to say no!" Hanlon volunteers in all different capacities — on the Combined Scholarship Fund committee for Fort Riley, the Historical and Archeological Society of Fort Riley board as the Ways and Means chairperson and with the Junction City Optimist Club. And every October, the Hanlon family attends the Fishing for Freedom event on Truman Lake in Missouri, which is for Wounded Warriors, active duty service members and veterans. Hanlon volunteers the whole weekend, registering the warriors and volunteer boaters, and serving in a variety of capacities.
Benne, the spouse of retired Col. Paul Benne, is a community volunteer involved with the Manhattan Area Chamber of Commerce Military Relations Committee Board, Flint Hills Veterans Coalition board, Central Kansas Military Community Foundation, Fort Riley Spouses Club, Leadership Manhattan, Operation Santa Claus on Fort Riley, Flint Hills Discovery Center Board, St. Thomas More Church Parish Council and more.
Benne's husband was diagnosed with a neurological disorder called ataxia in 2015, just before he retired from the Army. He has lost mobility, most of his speaking ability and is in a wheelchair. Benne manages his medical care with Tricare and Veterans Affairs. His care is a full-time job, and Benne is continually cheerful, helpful and serving the community. One of her two nominators shared, "I cannot think of another person as resilient as Christine, who gives so selflessly of herself to better the community and the world around her. I am privileged to call her my friend and strive to follow her example."
Military Spouse Appreciation Day is the Friday before Mother's Day, providing an opportunity to honor and celebrate the spouses of our service members and veterans.
"Each year, we bring in a speaker and continue to reach out to our military and veteran spouses at K-State and in the community. It is an opportunity to say 'thank you for your service' to them," Nelson Goff said.