June 13, 2017
K-State's Office of International Programs participates in global NAFSA conference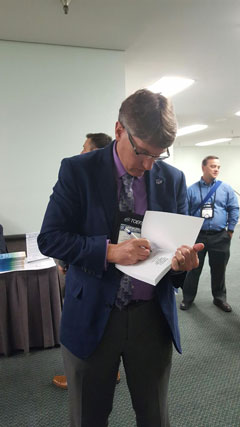 K-State's Office of International Programs leadership recently participated in the annual NAFSA Conference and Expo.
According to its website, NAFSA is the world's largest association dedicated to international education and exchange. Nearly 10,000 learners, leaders and change-makers attended the 2017 conference in Los Angeles, California.
Grant Chapman, interim associate provost for international programs, contributed a chapter in the recently released NAFSA publication, "Managing a Successful International Admissions Office: NAFSA's Guide to International Admissions." The book was launched at the conference and Chapman participated in the book signing session following the book's release.
"I was thrilled to be asked to contribute content to this important resource for international educators," Chapman said. "It is really the only published work in the area of international admissions and I was able to highlight Kansas State University and the Office of International Programs, providing added visibility for the university."
The book was featured on NAFSA's home page and was promoted and announced in the 2017 catalog mailed with the March/April issue of International Educator.
Sara Thurston, director of International Student and Scholar Services, was recently elected to a three-year term on the NAFSA board of directors and thus was given numerous responsibilities at the conference including interacting with plenary speakers including journalist and author Isabel Wilkerson; athlete, activist and author Kareem Abdul-Jabbar and Nobel Laureate/human rights activist Shirin Ebadi; and guest speakers Jodi Ettenberg and Haroon Ullah. Additionally, she interacted with sponsors and other participants at the conference.
"I am excited to contribute to NAFSA's expertise and energy to ensure that we continue to set and uphold our values, mission and strategic direction of the organization," Thurston said.
As a board member, Thurston's major responsibilities include oversight of policies and priorities that maintain the integrity of NAFSA programs, products and services, for the membership.
She sits on the Governance Committee in identifying prospective board members and sources of financial support and the Development (Organizational Advancement) Committee which recommends policy and shapes strategies and partnerships that enhance the quality of the association.
"I look forward to playing a large role in accomplishing specific objectives are assigned to our committees to better guide and engage our membership," Thurston said.
The following individuals also were conference attendees from the Office of International Programs:
Stacey Bailey, International Student and Scholar Services, NAFSA Region II Knowledge Community-International Student and Scholar Services, or KCISSS, representative, who presented a newcomer's session, and coordinated an open meeting on F-2 Enrollment.
Amy Hall and Brad McDonald were first-time NAFSA attendees to connect and engage with counterparts.
Anna McCullough, International Admissions and Recruiting, met with higher education representatives and regional country directors from EducationUSA and the U.S. Department of Education.