June 13, 2017
Joelle Pitts and Sara K. Kearns co-author innovative online library instruction manual
Submitted by Sarah McGreer Hoyt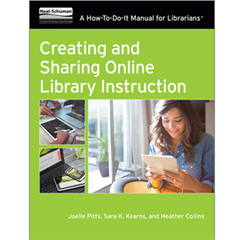 "Creating and Sharing Online Library Instruction: A How-To-Do-It Manual for Librarians," published by ALA Neal-Schuman, is an easy-to-follow guide for creating online library instruction. It's authored by three librarians who are co-creators of the New Literacies Alliance: Joelle Pitts and Sara K. Kearns of Kansas State University Libraries and Heather Collins of the University of Kansas Medical Center Library.
The book details the process of developing learning objects, which are units of digital content and assessment. The online learning objects are intended to engage students with critical thinking and information literacy concepts via an easy-to-use web interface and to gauge their mastery of the material.
The learning objects also are designed to be reused and shared. If one librarian creates online content that can be shared with other libraries, campuses or a consortium, they are saving others time and effort that can be otherwise directed at engaging with students and instructors in a more specialized way.
This model is what drives the New Literacies Alliance, an interinstitutional information literacy consortium that addresses the "new" literacies required for academic success and lifelong learning. The group's proven track record led it to win the 2016 Association of College and Research Libraries Instruction Section Innovation Award.
For more information about how K-State faculty can incorporate New Literacies Alliance learning modules into their classes, visit the NLA website or contact Pitts at jopitts@k-state.edu.
Pitts and Kearns' new book:
Walks readers through creating and sharing outcome-based lessons that allow students to master skills at their own pace.
Demonstrates how to use assessment to ensure that students learn foundational research and critical thinking skills rather than simply how to use a database or discovery platform.
Includes an assortment of the New Literacies Alliance's workflows, design processes and style guides.
Offers project planning and implementation tools, including checklists, steps and critical questions to consider.
Pitts is an instructional design librarian and associate professor. She leads the New Literacies Alliance and is responsible for the creation of web-based learning objects and environments aimed at increasing information literacy.
Kearns is an academic services librarian and associate professor and founding member of the New Literacies Alliance. She currently serves on a multi-institutional research project to determine the impact of library instruction on the success and retention of first-year college students.
Heather Collins, head of the Research and Learning Department at the University of Kansas Medical Center Library, co-authored the book with Pitts and Kearns. A founding member of the New Literacies Alliance, she continues to serve on the steering committee.