June 8, 2017
K-State alumna Geraldine Richmond awarded Priestley Medal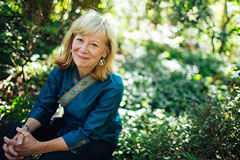 Geraldine Richmond is no stranger to accolades: She received the National Medal of Science in 2016 and is a fellow of several prominent scientific societies. The Kansas Board of Regents approved K-State to award the Kansas native, who holds a bachelor of science in chemistry from K-State, an honorary doctorate earlier this year, and Richmond spoke at Graduate School commencement on May 12.
Now Richmond can add the American Chemical Society's, or ACS, highest honor to her distinguished résumé: The society has awarded her its 2018 Priestley Medal. The prize is named after the English chemist and theologian, Joseph Priestley, who discovered oxygen in 1774. The society cites Richmond's scientific discoveries that explain important chemical processes as well as her leadership in scientific policy and education, including work to promote career advancement for women scientists and engineers, as motivating the award.
Richmond said she is excited to be honored for both her research and her work with scientists in the developing world.
"One does not win an award like this on your own," Richmond said. "My research successes are a reflection of the hard work, dedication and creativity of the many students and postdocs that I have had the privilege of working with all these years. My global work is really a tribute to the thousands of amazing scientists and engineers that I have met and worked with in countries all over Africa, Asia, the Middle East and Latin America."
Peter Dorhout, K-State vice president for research and American Chemical Society president-elect, will present Richmond's medal next year.
"As the ACS President in 2018, it will be my great pleasure and honor to present the medal to Geri,"Dorhout said. "She has accomplished great things and gone on to influence many chemistry practitioners, change the way we think about water, and impact alternative energy options. Her work in the developing regions of the globe, sharing her passion for chemistry and leadership, illustrates how K-State graduates can change the world."
Read a full release about the award and Richmond's work, including some memories from her time at K-State.