June 8, 2017
Students from Leawood, Salina receive Kansas State University Polytechnic scholarships
Submitted by Communications and Marketing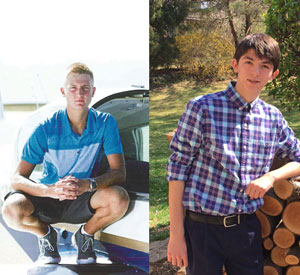 Two fall 2017 first-year students at Kansas State University Polytechnic Campus are receiving prestigious scholarships from the campus for their high academic achievement.
John Coates, Leawood, is the recipient of the 2017 Vanier Presidential Scholarship. The $20,000-per-year scholarship, worth $80,000 over four years, requires a minimum ACT score of 32 and a 3.85 GPA. Tyler Weems, Salina, is receiving the 2017 Vanier Bluemont Scholarship. The $10,000-per-year scholarship, worth $40,000 over four years, requires a minimum ACT score of 32 and a 3.8 GPA.
Coates will be a professional pilot major. For many, flying is a necessary means of transportation — a way to get to a business meeting or a luxury ride to a long-awaited vacation. For Coates, flying was a childhood dream that he is now making a reality.
"Airplanes have always fascinated me and once I flew an airplane, I knew I wanted to make a career out of flying," Coates said.
A career in aviation is a busy one, keeping pilots constantly on the go. Coates is looking forward to his time at Kansas State Polytechnic to gain experience and also meet fellow pilots who, with their equal understanding of the industry, will no doubt become lifelong friends.
"I have chosen to attend K-State Polytechnic over other colleges because I know that I will be a part of a community," Coates said. "I will be well-known by others and not just another face in the crowd; I will be part of a family."
After college, Coates hopes to gain experience by flying with smaller companies, ultimately flying all over the country with FedEx or UPS.
As with many prospective college students, the rising cost of tuition was not lost on Coates. Receiving the Vanier Presidential Scholarship takes the financial stress out of college for Coates, and allows him to focus on his dream: aviation.
"This scholarship has relieved a lot of the stress about paying for college, but it is also evidence to me that hard work and diligence will not go unrecognized," he said.
Weems will major in professional pilot. His dream to fly was ignited early, starting as a child through time spent in the air with his grandfather and uncles. After college, Weems wants to cultivate his flying career while remaining close to home.
"I hope to become a commercial or corporate pilot after graduating from K-State Polytechnic," Weems said. "I would love to be able to either stay in Kansas or come back to Kansas as my career allows."
At Kansas State Polytechnic, the experience matters. The approach to learning is hands-on, providing students the opportunity to apply classroom learning in real-world experiences. This learning style is important to Weems, and hands-on experiences are one of the things he is most looking forward to when he arrives on campus in the fall.
"I am most excited about making new friends and flying the K-State aircraft," he said. "It has been a dream since I was little to fly the airplanes with the Wildcats on them."
As a recipient of the Vanier Bluemont Scholarship, Weems truly understands the meaning of the K-State family and hopes to use his experiences to give back to future students.
"It shows the true generosity of K-State supporters and alumni," Weems said. "I hope to follow in the Vaniers' footsteps and financially support K-State students after graduation."