June 7, 2017
Student body president selected to prestigious program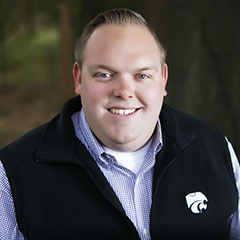 Jack Ayres, senior in chemical engineering and student body president, Overland Park, has been selected to the 2017 National Student Congress of the Henry Clay Center for Statesmanship.
The national center educates selected students in the skills of negotiation, dialogue and compromise. Alumni serve in elected offices at the state and local level, are staff members in the U.S. Senate and House of Representatives, and hold positions of leadership in corporations.
"I was ecstatic upon hearing of my acceptance because this is an opportunity to learn, grow and engage," Ayres said. "I believe spending a week focused on strengthening my advocacy capacity will help me better serve my fellow students."
The student congress program accepts college and high school students who have exceptional academic and extracurricular achievements. Ayres will attend the program in Lexington, Kentucky, June 11-17. Ayres will leave the weeklong program for one day to participate in the Kansas Board of Regents' June 14 meeting in his capacity.
As part of the program, Ayres and the other participants will have the opportunity to meet with lawmakers, professors, journalists and civil leaders to discuss civil engagement, democracy and conflict resolution. The program also includes nationally recognized guest speakers and a student debate on a current topic.
"I look forward to meeting with student leaders across the country, discussing our shared challenges and working together to create strategic solutions," Ayres said.