June 7, 2017
Wildcats reel in third bass fishing national championship in five years
Submitted by Communications and Marketing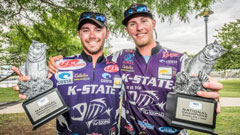 Travis Blenn, senior in park management and conservation, and Kyle Alsop, a December 2016 graduate in mechanical engineering, brought home first place June 2 at the YETI FLW College Fishing National Championship on Alabama's Lake Wheeler.
The team's three-day total of 44 pounds, 12 ounces — including an 11-pound, 11-ounce bag on the final day of competition — secured their first-place finish.
Alsop's and Blenn's win is the third national championship in five years for the K-State bass team. Alsop also was a member of last year's Bassmaster College Series National Championship-winning team, and a member of K-State's team won a national title in 2012.