June 2, 2017
K-State's Frontier program trains Cochran fellows from Central America in trade facilitation
Submitted by Communications and Marketing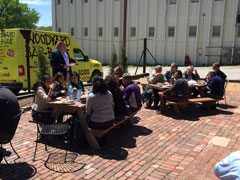 For the second time in less than a year, a team of food safety and international trade scholars in the Frontier program at Kansas State University provided trade facilitation training for foreign officials sponsored through the U.S. Department of Agriculture's Cochran Fellowship program.
Justin Kastner, associate professor of diagnostic medicine and pathobiology; Sara Gragg, assistant professor of animal sciences and industry at K-State Olathe; Jason Ackleson, an adjunct faculty member; Danny Unruh, doctoral student in food science at K-State Olathe; and Steve Toburen, Frontier program coordinator from the diagnostic medicine and pathobiology department, conducted a two-week training event involving regulatory and trade officials from Honduras, Guatemala and El Salvador.
The training program mirrored another one delivered in August 2016 for Cochran fellows from East Africa. On April 23, members of the Frontier team flew to Washington, D.C., to meet with the fellows, and the training began in earnest with briefings and presentations at the U.S. Department of Agriculture's office buildings in Washington, a visit to the Animal and Plant Health Inspection Service in Riverdale, Maryland, and a special talk by Ackleson, Frontier co-director and director of strategy for the U.S. Department of Homeland Security's Office of Policy.
After three days in Washington, the fellows received additional training at K-State Olathe. With Unruh, Gragg and Kastner taking the lead, additional support was provided by Spanish-speaking graduate students Francisco Najar, master's student in food science; Ileana Cepeda, master's student in public health; and Daniel Vega, doctoral student in food science.
Kansas City-area site visits included the Olathe Horticulture Research and Extension Center and the Roasterie in Kansas City, Missouri. Ryan Bradburn, a Frontier alumnus and USDA Food Safety and Inspection Service official, also spoke with the delegates.
At the K-State Horticulture Research and Extension Center in Olathe, fellows met with Cary Rivard, center director.
"Dr. Rivard shared details about research trials at the center and answered questions about horticulture, trade and plant health," Gragg said. "The fellows also enjoyed a walking tour of the center, where they observed the research trials currently in progress and learned about high tunnel production."
At the research farm, the fellows interacted with plant and crop experts, learning invaluable lessons on high-tunnel crop production and the challenges and solutions facing farmers across Kansas and the United States, Unruh said.
After a week of training in Kansas City and Olathe, the group returned to Washington for a special visit to the Port of Baltimore, where the officials observed firsthand the complexity of operations required to facilitate the import and export of agricultural and food products.
Kastner and Ackleson involve both graduate and undergraduate students in such trainings on cross-border cooperation and the food trade. K-State undergraduates Sarah Jones, Macy Sherwin and Clara Wicoff assisted in the training, which included the fellows developing individual work plans to take back to their home countries.
Curtis Kastner, K-State professor emeritus of food science, assisted with the development of the work plans. He offered perspectives on both the food industry and Central America, which was home to some of his graduate students during his career.
The attending fellows including the following: Eduardo Taracena Zamora, pest risk analyst; Ricardo Horacio Amado Fernandez, lawyer; Jorge Mario Gomez Castillo, chief of surveillance for plant pest and appropriate response process; and Guillermo Ortiz, plant health director, all from the Guatemala's Ministry of Agriculture, Livestock and Nutrition; Jose Allan Sabillon Sabillon, supervisor animal quarantine, and Feliciano Paz Fernandez, supervisor plant quarantine, both from the Honduras' Ministry of Agriculture, Livestock and Nutrition. Angel Galan Jose Angel Alvarez, quarantine division chief for the Ministry of Agriculture and Livestock, El Salvador; Lizeth Guadalupe Ramirez Araujo, technical analyst, Chamber of Commerce and Industry of El Salvador; Yasmara Guadalupe Fuentes Cardoza, legal affairs specialist for the Ministry of Economy, El Salvador; and Maria Eugenia Portillo Pacas, executive director of the Federation of Chambers of Commerce of Central America.
The USDA's Foreign Agricultural Service administers the Cochran Fellowship Program. It is U.S.-based and provides agricultural training opportunities for senior and mid-level specialists and administrators. Countries must be classified as middle-income, an emerging democracy or an emerging market to be eligible.
"Frontier is pleased to continue to support the Cochran Fellowship Program, which helps advance U.S. foreign policy goals and build capacity abroad," Ackelson said. "The Cochran program does this by offering the kind of innovative training and experiential learning activities for which Frontier is known."