June 2, 2017
Spring 2017 hires and promotions at Kansas State University Foundation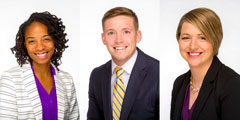 The Kansas State University Foundation added three new colleagues and promoted three staff members in spring 2017.
Dana Suther returned to the KSU Foundation as the new assistant director of annual giving. She has five years of development experience including two with the KSU Foundation as a development coordinator and most recently as advancement officer for Bishop Carroll Catholic High School in Wichita. Suther is a 2010 K-State graduate with a bachelor's in public relations and minor in leadership studies. She is originally from Seneca.
Trevor Jueneman was hired as the new development officer for Kansas State Polytechnic. As a 2015 K-State graduate with a bachelor's degree in the social sciences, Jueneman joins the foundation after working for Complete Nutrition as manager and nutritional consultant. He is originally from Hanover.
Daena Blair has recently joined the foundation as gift planning coordinator. Blair's previous experience includes serving the Veterans Affairs hospital in Seattle as a credentialing and privileging specialist. She is currently a graduate student in the public administration program at K-State and earned her bachelor's degree in law and public policy/social work from the University of Washington. Blair is originally from Hampton, Virginia.
Three current staff members also were promoted. Dana Hunter has been promoted to director of development and unit lead for the College of Human Ecology. Danielle Cerbe is now the assistant director of stewardship and Anthony Richter is now a stewardship specialist.
Philanthropic contributions to K-State are coordinated by the Kansas State University Foundation. The foundation is leading Innovation and Inspiration: The Campaign for Kansas State University to raise $1.4 billion for student success, faculty development, facility enhancement and programmatic success.
Photos from left to right of Daena Blair, Trevor Jueneman and Dana Suther were taken by Dave Mayes.