June 1, 2017
2017 National Memorial Day Parade featured top Wildcat
Submitted by Division of Communications and Marketing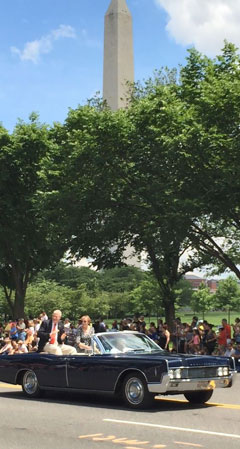 This year's National Memorial Day Parade in Washington, D.C., had a decidedly, purple touch. Richard Myers, Kansas State University president and a retired four-star Air Force general, was one of the grand marshals for the annual event, sponsored by the American Veterans Center. Attending with Myers was K-State's first lady, Mary Jo Myers.
The parade, in its 13th year, is the nation's largest Memorial Day event, drawing hundreds of thousands of spectators to the National Mall to pay tribute to those who have served, are serving and those who made the ultimate sacrifice for their country.
Serving as grand marshals along with Myers were two award-winning filmmakers: Ken Burns and Lynn Novick. Their latest film, "The Vietnam War," will air on PBS in September.
Being asked to be a grand marshal of the National Memorial Day Parade was a great honor, said Myers, who spent more than 40 years in the military after graduating from K-State in 1965 and entering the Air Force through the university's Air Force ROTC program. Myers began his career as a combat pilot in Vietnam and capped it by serving as the 15th chairman of the Joint Chiefs of Staff, making him the highest-ranking officer in the U.S. armed forces.
"It was such a special honor for Mary Jo and me to participate," Myers said. "Especially as the honorary grand marshals for the parade were several surviving veterans of World War II. They represented the 16 million Americans who served in World War II, including the 400,000 who gave their lives for our nation. We owe so much to these members of 'the greatest generation' for the sacrifices they made to keep us safe and free."
More details and a video of the parade are available.
Photo courtesy of Dan Thomson.