May 31, 2017
Howe appointed department head of interior architecture & product design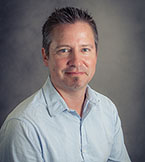 The College of Architecture, Planning & Design, or APDesign, announces the appointment of Nathan Howe, associate professor of architecture, as the new department head of the interior architecture & product design, or IAPD, department. He will take over for Amie Keener, interim program director, who has held the post since summer 2016.
"Over my eight years as dean I have witnessed Nathan's growth first-hand as a proactive, engaged faculty member and design leader," said Timothy de Noble, dean of the college. "My faith in Nathan to serve as our department head resides in his dedication to APDesign and K-State, his obvious affinity and appreciation for the scope and work of the IAPD faculty and students, and his consummate professionalism and sense of responsibility in accomplishing assigned tasks. Nathan is an inventive and collaborative designer. I am confident that he will bring these qualities to leadership at the departmental level, as he has at each level of leadership in the past; be it in year-level coordination, committee engagement, and in the representation of the college and his home department. Most importantly Nathan's attitude, as well as his design work, is not easily bound to any one discipline, but reflects an appreciation for the spectrum of disciplines in our college."
"Nathan has a proven track record of successful teaching and putting K-State students first — qualities shared by all of our IAPD faculty," Keener said. "I'm thrilled to be working with him in the coming months and 'pass the baton' of IAPD leadership. I plan to contribute to the future of IAPD, as an active member of the IAPD Professional Advisory Board and as a practicing design professional at Gensler, as our department grows on a good path forward."
"During my years as a faculty member in the department of architecture, I believe IAPD embodies all that is important at a design school; a strong theoretical underpinning along with the will and desire to make these visions a reality," Howe said. "I would like to express my sincere thanks to everyone in the various departments in the college who have contributed to our ongoing success."
Howe joined the architecture department as an assistant professor in 2005 from the University of Nebraska at Lincoln. He said he was attracted by the challenging and dynamic atmosphere in the IAPD department, present in both the academic and administrative teams, as well as the quality of research and scholarship carried out within the department. Within a receptive environment, he also noted that he could see an opportunity to make a positive contribution to the progression of the department.
"I am delighted and humbled to accept this new role," Howe said. "It brings with it a number of challenges and opportunities for everyone, faculty and students alike. I am looking forward to engaging even more with administration, staff and students. APDesign has a diverse student body: we can attract students from backgrounds rarely found on many university campuses due to our talented faculty and continued high rankings. This is a unique feature of which APDesign and its department of interior architecture & product design are very proud. As many know, there is great excitement and anticipation surrounding the coming state-of-the-art facilities opening this fall. We will find ourselves at this very exciting moment in history for the department and college and it is my intention to help advance the quality of the program."
Howe will begin his new role effective July 1. Until that time, he will coordinate with Keener and continue to do so until his official appointment begins.