May 23, 2017
International Programs office for College of Veterinary Medicine expands student travel opportunities with veterinary school in India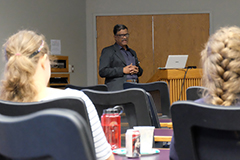 Kansas State University's College of Veterinary Medicine is creating new opportunities to provide veterinary students with exposure to international experiences. The college's latest efforts involve formal collaborations with the Rajiv Gandhi Institute of Veterinary Education and Research, or RIVER, in Puducherry, India.
"International exposure, whether that be hosting international students at K-State or K-State students gaining experience overseas, plays an immeasurable role in building the leadership and problem-solving skills of veterinary students," said Keith Hamilton, executive director of the International Programs office in the veterinary college. "New collaborations with veterinary schools in other countries helps promote the visibility and credibility of the Kansas State University College of Veterinary Medicine internationally."
In April, the veterinary college hosted a visit from Ramesh Kumar, dean of RIVER, when he personally invited K-State veterinary students and faculty to consider externships, mentorships, study tours and research projects in India.
"Dr. Hamilton and I visited the RIVER campus last September, so we were very excited for Dean Kumar to help us take the next step forward in our collaboration plans," said Sanjeev Narayanan, professor of diagnostic medicine and pathobiology at Kansas State University. "Our objective is to leverage this partnership to broaden and enrich educational experiences for veterinary students, Master of Public Health students and faculty at both the K-State College of Veterinary Medicine and RIVER by providing opportunities for exposure to a wider range of clinical cases, techniques and production systems."
Kumar presented seminars and videos where he listed potential benefits for students and faculty to visit RIVER, such as the chance learn about tropical animal and zoonotic diseases, local breeds of animals, and clinical practice and structure in India as contrasted with the United States. He said being exposed to a new culture would broaden the global perspective of participants.
"A visit to RIVER offers an enormous opportunity for K-State students to see with their own eyes, investigate, and treat a broad and diverse range of clinical presentations in large and small animals which they would never have the opportunity to see in Kansas," Hamilton said.
RIVER's location in Puducherry is on the coast of India, not far from the city of Chennai. Hamilton said it is a welcoming town with outstanding ambiance, food and culture, frequented by many tourists, particularly from France.
"Kansas State University hopes to welcome a small group of veterinary students from Pondicherry this fall who will observe on clinical rotations and learn about the role of veterinarians in the USA," Hamilton said. "This summer, there are some K-State students going to Pondicherry, but they are doing so under their own steam. We hope to develop a formal, supervised exchange or study tour for next year. We are also hoping to collaborate with other veterinary schools in the U.S."
Under the current agreement, there won't be a charge for tuition fees, but participating students will be responsible for making their own travel arranges and must cover their incidental expenses on their own. The host schools will provide local accommodations.
To learn more about this program and other international veterinary opportunities, visit the International Programs webpage.