April 10, 2017
Dana Vanlandingham, Stephen Higgs and Yan-Jang Huang co-author chapter in industry-standard biosafety textbook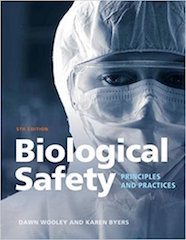 Three K-State professors co-authored "Arthropod Vector Biocontainment," a chapter in the fifth edition of "Biological Safety: Principles and Practices" from the American Society of Microbiology Press.
The book is an industry-standard biosafety authority. The arthropod chapter provides up-to-date information for researchers to work safely and securely with arthropods infected with potentially lethal biological agents. The chapter addresses appropriate facility design as well as researcher and staff training, and it includes a section about genetically engineered arthropods such as those created with gene drives.
Dana Vanlandingham, Stephen Higgs and Yan-Jang S. Huang collaborated to author the chapter. Vanlandingham is assistant professor of virology and Huang is research assistant professor in the department of diagnostic medicine and pathobiology in the K-State College of Veterinary Medicine. Higgs is associate vice president for research and director of the Biosecurity Research Institute. The group routinely collaborates on research projects involving Zika virus and other mosquito-transmitted diseases.
"We strived to address hot topics in the field in writing this chapter," said Vanlandingham.
"As emerging and re-emerging mosquito-borne viruses have created significant disease burden, maintaining state-of-the-art insectary design and training are crucial," she said.