March 28, 2017
Kansas State Polytechnic elects new student body president, vice president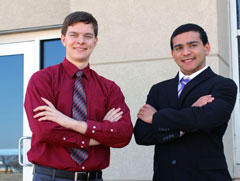 The student body of Kansas State University's Polytechnic Campus has elected its new undergraduate leadership.
Nicholas Ramirez, freshman in professional pilot, Wichita, has been chosen as student body president of Kansas State Polytechnic. Christian Coker, sophomore in professional pilot, Tulsa, Oklahoma, will serve as student body vice president. When the two take office in the Student Governing Association, or SGA, on Tuesday, March 28, they will begin implementing their platform of advocating for students' needs and increasing student involvement on campus.
"I believe students on this campus deserve to have an SGA that really cares about them, their challenges and their ideas. It is important to Christian and me that students feel like their voices matter and that we're here to represent them," Ramirez said. "Despite having a little bit of a learning curve, I am honored and humbled that my fellow students have faith in me to lead their student government."
"We just want to encourage students to make the most of their four years in college, which Nicholas and I believe includes engagement outside of the classroom," said Coker. "Whether it's a club, activity, campus job or even SGA, students will make connections and build friendships when they are actively involved, which will result in a better college experience and better campus environment."
Ramirez, who graduated from Andover High School, got started in SGA last semester when he acted as a senator for the aviation program. Though initially he didn't have any intention of running for president when the elections were first announced, he received an outpouring of support that swayed his decision.
"I was hesitant to run in the beginning, but was given tremendous encouragement from my professors, advisor and other senators. I also was inspired by the hard work and leadership of the current president and vice president," Ramirez said. "After a lot of consideration and prayer, I decided to take a leap of faith in the hope I could demonstrate my passion for the campus and bring about the change students desire."
In addition, Ramirez is a peer tutor for the residence halls, was a member of the Women in Aviation student club in fall 2016 and is on the Honor Council. He decided to pursue a degree in aviation because his father is a pilot for American Airlines and he has always loved flying. After graduating, Ramirez's ultimate career goal is to sit beside his father in the cockpit of an airplane as his first officer.
Coker, a graduate of Broken Arrow High School, was also an aviation senator in SGA last semester and teamed up with Ramirez on the ballot after his running mate dropped out. He works at the front desk of his residence hall and would hear students bring up valid ideas and issues that he decided he wanted to represent. Along with student government, Coker was previously a member of K-State's ROTC program and hopes to start a running club on campus. After graduation, he wants to shift his career focus to corporate aviation while continuing to fly as a hobby.
Senator positions in arts, sciences and business, aviation, engineering technology and social work/family studies and human services also were selected during the 2017-2018 election.