March 28, 2017
K-State Inline Hockey Club earns first round bye in national tournament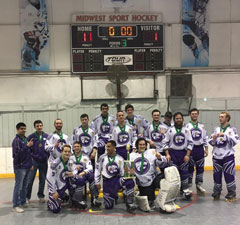 The National Collegiate Roller Hockey Association has announced the pools for its National Invitational Tournament April 5-9 in Fort Myers, Florida. K-State is in pool B.
Each pool will play a three-game round-robin for actual seeding in the elimination round. Pools A and B have a bye for the play-in round and are automatically placed in the Sweet 16.
Congratulations to the Roller Cats.
Pool A
University of Akron
California State University, Chico
East Carolina University
Stony Brook University
Pool B
University of Arizona
University of Arkansas
Kansas State University
University of Tennessee Knoxville
Pool C
California State University, Fullerton
University of Denver
Illinois State University
Yeshiva University
Pool D
DePaul University
Endicott College
University of Florida
Pennsylvania State University
Pool E
Louisiana Tech University
Northern Arizona University
Ohio State University
State University of New York at Oswego
The game schedule is expected to be announced in the next week. All games will be streamed live online. More information will be posted as it becomes available.